Induction Year: 2008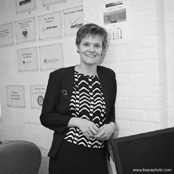 In 1998, Minnesota native Debra Roepke was new to the Washington area, working in a job she didn't love and itching to use her creativity, management skills, and computer knowledge to help others. Her idea was to teach computer skills to people who didn't even know how to use a mouse.
That idea eventually became Computer Community Outreach and Education (Computer C.O.R.E.), a 501(c)(3) nonprofit agency whose mission is to help Northern Virginia's low-income adults improve their career opportunities through job skills training, mentoring, and job placement guidance. The students spend at least 6 hours a week in classes in the basement of Fairlington Presbyterian Church, where they learn computer skills, how to write a resume, the importance of being on time, how to develop a good work ethic, and how to interview for a job.
Roepke founded the organization with the help of Pastor Jan Edmiston and the church's elders. The first generation of her family to attend college, she put herself through Macalester College in St. Paul, Minnesota, earning a degree in biology while also working 60 to 70 hours. But at critical junctures, she said, "Key people helped me, and I want to pass it on."
Roepke has used her life experiences as building blocks. Even the boring job had its compensations: She met her future husband, John Nelson, there, and they now have a 9-month-old daughter. The company helped her get her master's degree in Science, Technology and Public Policy at George Washington University in the District of Columbia.
One of her college jobs was in a computer store, where her boss became a mentor. After graduation, she worked in the information technology (IT) department of Grinnell College in Iowa. In her spare time, she taught a computer course at the local community college. In the first class, everyone stared stonily after she'd explained how to start. Finally, in desperation, she said, "Push the big red button on the right." As one, the students did as they were told, and the class began to move. By the end of the semester, half the students in the first class had succeeded in getting new jobs.
While working in it at Grinnell, Roepke supervised 50 student employees who worked an average of six hours a week. So she learned to break down bigger tasks into small blocks. "That's been critical in managing an organization where essentially the direct services are all provided by volunteers," she said. During a year in Denmark on a Rotary Club exchange program, she became close friends with her host family. Her "Danish Dad" also became a mentor. When she sought advice at a critical juncture, he told her not to take a new job just for the sake of moving on or up. "It is time to decide what will be your life's work," he said.
So she turned down an IT startup job and eventually accepted that job in Washington. She started attending Fairlington Presbyterian Church. When she discussed with the pastor her idea of using space in the church to teach computer skills to the underemployed, Edmiston suggested she write up a proposal for the church elders. The elders approved an initial donation of $10,000 to start the program, and also provided a $20,000 line of credit for the startup.
Incorporated in 1999, Computer C.O.R.E. this year has a budget of $307,000 in cash and $600,000 in in-kind donations of computers, office supplies and equipment, and most critically, the hours of time contributed by volunteers.
Every half year, a class of 48 students, broken into classes of 12, starts from scratch, learning how to use a mouse, how to save a document, how to use Windows, Word, Excel, PowerPoint and e-mail. By the end of the 6-month course many can give a PowerPoint presentation.
At least two students apply for every space. They are screened for English language skills, and to be sure the computer classes are at the right level for them. They must be prompt and faithful in attendance or they lose their places in class to someone on the waiting list – a consequence that successfully teaches a good work ethic.
Students pay $150 for the course. Both students and volunteers sign a 6-month contract committing them for the duration of the course. It takes 80 volunteers to run a semester course. Each class of 12 has a teacher and an assistant. Others volunteer as technicians who maintain and reconfigure the computers used by the five paid staff members, the students and the volunteers.
Each graduate receives a computer to take home, which furthers the impact of the program on the community, said Dawn Terminella, C.O.R.E.'s operations manager, one of only 5 paid staffers. Two thirds of the students have families, and taking home a computer not only gives the graduates access to e-mail and the ability to maintain business contacts, it also enables them to teach their children to use computers, giving them a tool toward school readiness.
Network administrator Jim Clager is a volunteer who works 8 hours every Saturday maintaining and refurbishing the computers donated by corporations and local governments. In Clager's day job as a management consultant for Booz Allen Hamilton, he supports a major IT project for the Marine Corps at Quantico. He calls Roepke "a human dynamo. I'm amazed at her energy, her passion, and her amazing ability to work with people."
C.O.R.E. receives financial support and in-kind donations from major corporations and philanthropic organizations, this year including Northrop Grumman, Boeing, the Meyer Foundation, the Claude Moore Foundation, the Philip L. Graham Fund and the City of Alexandria's Community Partnership Fund.
Janice Pritchett is the grants administrator for Alexandria's Department of Human Services, which administers the Alexandria Fund for Community Services. "Computer C.O.R.E. provides a service than many residents value in this community," she said.
Dale Rainville manages Boeing's Global Corporate Citizenship programs for the Washington, DC area. Computer C.O.R.E. is one of the few nonprofits that made it to the top of their list of partner organizations. They have supported C.O.R.E for 4 years, he said, because "We were impressed by the Executive Director, Deb Roepke, and her ability to acknowledge the organization's need to continually challenge and evaluate itself."
Leslie Downing volunteered as a fulltime manager of career and life services at C.O.R.E. for 2 _ years. "Deb definitely excels at giving people responsibility, at sensing potential, at taking chances on people's innate abilities," Downing said. "It's extraordinary how much students change in the 6-month span of the program. They have every reason not to do this – they have families, often hold down two jobs, they have few skills." For her, the reward was seeing the students develop skills and self-esteem.
Connie Hanson was a volunteer for years. "C.O.R.E. really does empower and transform lives," she said, "not just of the students but also of the volunteers." A former teacher, she first volunteered there as a curriculum specialist and eventually became the paid Education Coordinator. Two years ago, using her new skills and experience, she moved on to a position in the State Department.
Del Ray resident Gretchen Steenstra is also a longtime volunteer and a current board member. "Deb is a creative person and she's organized. You don't usually get those two qualities in the same person," Steenstra said.
In the beginning, Steenstra said, most students were low-income locals. Now, most are immigrants, with very high graduation and success rates. Two thirds are women, a quarter get new jobs, a quarter get pay raises, and 30 percent enroll in higher education. Some even start businesses.
Graduate Abdul Agermoune graduated from the program in 2001. A recent immigrant from Morocco, he was working as a busboy when he heard about C.O.R.E. He was soon hired as a teller and is now a financial analyst. He often comes back to the program to help. "When I see the other students, I see myself as I was." As a Muslim, he was at first uneasy about attending a program in a Christian Church. "Deb made me change my idea about churches," he said. "Helping others is the best kind of worship – people giving up their time, which is very precious."
Roepke's management skills have laid the groundwork for the organization to flourish after she moves on to the next phase in her life in January. She will be finding new ways to use her own potential, which is just the opportunity she offered to the students, staff, and volunteers at Computer C.O.R.E.
Credit: Christa Watters