Induction Year: 2008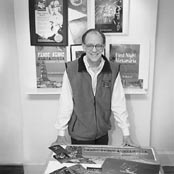 David Martin made a difference to our city by saving First Night Alexandria. A lawyer specializing in corporate and securities matters might not seem the most likely person to care about a family-oriented arts festival, but this Alexandria resident put himself on the line. Ann Dorman, First Night Alexandria's current executive director, nominated Martin as a Living Legend, she said, because, "He made it his mission and he put his money and effort where his heart was, becoming one of our largest individual financial contributors. I had a vested interest (as a paid executive director) in rebuilding the organization, but David just knew it would be good for the community," she said.
First Night is an entertainment and performance-oriented festival celebrated in cities across the country. It encourages families to see in the New Year together in an alcohol-free environment with arts and performance events that appeal to all age groups. Martin first came to First Night as a performer. He was a singer and board member with the Washington Revels, a group dedicated to reviving and celebrating cultural traditions of music, dance, stories, drama and ritual from our past. He heard about First Night Alexandria a few years after it began and contacted the organizers to see if the Revels could perform at one of the venues on New Year's Eve. "One thing led to another," he recalled.
The city had celebrated First Night since 1994, but in December 2000, First Night Alexandria went dark. In September of that year, the organization's board and executive director had faced the fact that there simply wasn't enough money on hand. So on New Year's Eve, there was no festival: No folk music, no jazz, no face painting, no plays, no dancing, no fireworks!
First Night was started as an all-volunteer organization by people who had attended First Night Annapolis and thought it would be a good event to hold in our city as well. Eventually, the group hired a part-time director. But by 2000, the board had shrunk to a handful of people and fundraising was haphazard, said Dorman, a self-employed meeting and events planner.
In January 2001, Martin, as president of the organization's board of directors, took action to bring back First Night for the coming December. He addressed a forum of the Alexandria Convention and Visitors Association in January of 2001, explaining why there had been no First Night the month before, and appealed to them to help. He lived in Alexandria, he said, but because he worked in the District of Columbia, he needed collaborators who were well connected in the Alexandria Business Community to help him raise money to support and reactivate First Night.
Dorman, who was present at the forum, offered to create a plan for First Night's future. Martin pledged a sizable donation and asked others to do the same so that they could hire Dorman and her husband, Rick, as a management team. The Dormans believed in the project so strongly that they offered to work without pay until they had raised enough money to prove themselves. The first thing they did was to expand the board of directors with Alexandria business leaders. One of those who pitched in and helped with the fundraising was then City Councilman (now Mayor) Bill Euille, who appealed to many of his business colleagues, Dorman said. The plan worked, and First Night was back in December 2001.
Nora Partlow was one of the board members who lived through the transition and set about raising money in her neighborhood of Del Ray, where she runs St. Elmo's Coffee Pub, a hub of the community. She is also active in the Potomac West Business Association, the Alexandria Chamber of Commerce and the Alexandria Convention and Visitors Association.
Partlow praised Dorman for bringing in new fundraising ideas and connections. But she emphasized that what made the difference was David Martin's decision to bring in a professional fundraiser and to build the board by bringing on others who were also effective fundraisers. He led by example, Partlow said, pledging a substantial sum in financial support as a private individual, while many others who donated gave through their businesses, viewing the contribution as part of their overall marketing efforts.
Charles K. Collum, chairman and CEO of Burke & Herbert Bank, who served on the board from 2002 to 2006, said he went to contacts in the banking and financial community. Others, he said, networked with King Street merchants, for example. "Ann Dorman did a fabulous job in keeping many different types on the board so there were ways to reach all parts of the business community." Business donations ranged from $1,500 to $5,000 dollars.
The City of Alexandria also supports First Night, providing about a third of the festival's annual budget each year, Dorman said, through its marketing fund and the Arts Commission. The festival's current annual budget is about $200,000. Though merchants and restaurateurs were dubious about the value of such an event in the beginning, they soon realized that it drew people from all over the metropolitan Washington region. Dorman said it brings about 13,000 visitors and more than half-a-million dollars to the city annually.
"Communities are built around predictable traditions of coming together," Martin said, explaining what motivated him to make sure that First Night returned to his city. "Alexandria is strong for having these kinds of events. Music, dance and performance are gathering points for celebration, and culture is a glue in our society. These are the things that get people through hard times."
Dorman noted that First Night had serious discussions with the city after 9/11 with regard to safety. But the consensus was that the city needed the celebration more than ever, reaffirming our need to go on with our communal life. "We needed to say goodbye to that year and look forward to a new one. Attendance was only about 5,000 or so that year, down from nearly twice that in the late nineties. But crowds have steadily increased since then.
George Seghers is executive director of the George Washington Masonic Memorial, one of the venues for First Night performances. Its grounds are the site for the fireworks that end the New Year's Eve festivities. "I think it's important to begin the year with a family event, for families to be together as they make that transition. And," he added, "it's a joy for us just to have the community come in."
Martin worked at the United States Securities and Exchange Commission (SEC) from 1980 to 1985 and again from 2000 to 2002. He is now a partner with the law firm of Covington & Burling LLP, where he heads the firm's securities practice. A graduate of Yale University, he and his family first came to Alexandria in 1972 when they settled here after four years in the Navy that ended with a posting in D.C. He earned his J.D. from the University of Virginia Law School, where he was managing editor of the Virginia Law Review. He spent 15 years in private practice prior to his time at the SEC, where he was Director of Corporation Finance at the time of his move to Covington & Burling.
He and his wife, Martha, have three grown children and one grandchild. He has been active in St. Paul's church, where he has sung in the choir and served several terms on the Vestry. He served on the Alexandria Industrial Development Authority, on the boards of the Washington Chamber Symphony and the Support Center of DC (both now defunct), and has worked with Jubilee Jobs in D.C. for 15 years.
"Living Legends of Alexandria" is a project of the Rotary Club of Alexandria in partnership with the Alexandria Gazette Packet. Nina Tisara is Project Director.
Credit: Christa Watters