Induction Year: 2023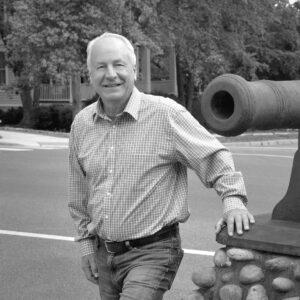 Dana Lawhorne's police career all started on a Friday night "drive around" in a police car when he was 14-years-old. "My teacher made me do it. I listened to the police radio, bummed a cigarette. I didn't have anything better to do; I hated to go." But from that time on he knew he wanted to be a police officer.
Lawhorne says his home life was a disaster and he didn't want to go home so he stood on the corner and waited for a police car to drive by so he could talk to them. "'Hey turkey,' they would call—I had long hair and looked like a hippy. 'What are you doing out here?'"
"I grew up in this neighborhood," he says pointing across his backyard on W. Alexander Street. "But education was always a struggle for me and I didn't have any help at home. I wanted to drop out in 8th grade." He explains, "There were so many other things going on I couldn't focus. School was like doing time for me."
But he says he was lucky a couple of police officers shepherded him through high school along with some help from some neighbors who helped him through the hurtful times. "They told me I had to have a high school education if I was going to be a police officer. I wanted to be an officer so bad. I felt like there was no hope and I was attracted by the car, uniform, radio and I love helping people, solving a problem."
This early encounter led to his long and dedicated 43 years of local law enforcement service including as police officer for 27 years, detective for 19 years and Alexandria sheriff for four terms— running unopposed the last three terms. He attended T.C. Williams High School, earned his associate degree in Administration of Justice from Northern Virginia Community College and completed the Executive Leadership Institute offered by the FBI-Law Enforcement Executive Development Association. Over his career he served on numerous public safety task forces and committees and earned countless honors, awards, and expressions of appreciation for his dedication to excellence and his compassion for people.
Lawhorne says he realized later when he became sheriff how important education was to him, and one of his goals as Alexandria Sheriff was to offer educational opportunities to inmates. As a result, he hired a full time person to assist inmates with classes and tutoring to earn their GED and funded it out of his budget along with the necessary tools and equipment. "The staff knew this was important to me; it was non-negotiable; it was near and dear to my heart." He says they established a special program unit to house these inmates with others who wanted to change their lives so they were around others with good attitudes."
Lawhorne says when he became sheriff in 2005 he wanted to put the Sheriff's office back on the map. "It wasn't as respected as it should have been. I wanted it to be more invested in the community. Public trust is so important; people believe in us." The first thing he did was look at diversity on the force of about 400. "It was mediocre at best." So he directed his attention to increasing women and Hispanics on the force and about tripled the number while he was in charge.
"Also your philosophical and management style has to be so people can flourish and have a path to succeed." So he increased the training opportunities for his staff. He says his biggest challenge was management of staff. "Every person is unique. They have different needs, are struggling in life, are parents trying to balance family life with work."
Lawhorne's priorities for inmates were sobriety and mental health as well as assistance with reentry. "I hired a reentry person. Everyone needs help with the transition back into the community." He adds, "It doesn't take much to trigger a person back to jail." As a result he held job fairs with potential employers, helped the inmates find housing, birth certificates, taught them life skills while they were still in jail.
"You can't wait until the inmates are released; you have to get them ready ahead of time."
He said you are dealing with a vulnerable population which was 400 inmates when he entered office in 2005. This included 150 inmates, some high profile, held in the Eastern District for the Feds as well as 250 local inmates with a few accused of murder and grand larceny and mostly drugs and theft.
Lawhorne looks back at his life and gets overwhelmed by fate. "Fate, just think of all the times fate intervened." He points to his wife Linda who he met because he was riding around an apartment complex as a security guard "having the time of my life" when he stopped to talk to a friend and there happened to be a cute girl there at the time. A brief conversation made an impression and it led to a date and marriage in 1984.
"I'm so blessed I'm married to a strong, independent woman. When I would come home after a hard day I'd walk in and you could feel the energy coming back to your body. And I have three strong and independent daughters who live nearby and three grandchildren."
And it was fate that intervened with that drive around in the police car when he was 14 that led to his 43-year career in law enforcement.
He still lives in the neighborhood where he grew up and attended Maury Elementary. "It was good in the early years but then my older brother, who was the strong one in the family, left for the Navy, and things went bad." But Lawhorne still walks around that neighborhood and memories come back from those early years—his best friend's house, the neighbor who helped him through hard times and, of course, that street corner where it all started.
He decided to retire in 2022 "because of the math. I still loved what I did but I would have been 68 after another term. I miss the public service but I don't miss the stress." Now Lawhorne works part time at the first Baptist Church as facilities manager, is active with the Rosemont Citizen's Association, does a little consulting with local business and "is lucky to be able to spend a lot of time with my family."
By Shirley Ruhe
Photo Credit: Steven Halperson/Tisara Studios