Induction Year: 2019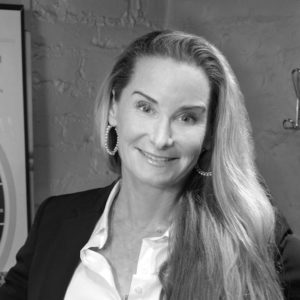 Life was good for Brooke Sydnor Curran. In 2009, she was happily raising three daughters with her husband Chris and had recently taken up running as a way to carve out time for herself in her busy schedule. But while sitting at a traffic light not far from her home, she noticed a woman struggling to cross the road with her young children in tow.
"It was an ordinary day but in that instant I had my lightbulb moment," said Curran. "I realized then the needs that existed here in Alexandria, in my own backyard."
Curran decided to give her running new meaning and founded RunningBrooke, a nonprofit that serves at-risk kids across Alexandria by encouraging physical activity and stimulating improved learning and well-being.
"It's been proven that physical activity sparks learning," said Curran, who envisions a future where all of Alexandria's children, regardless of their background or circumstances, are able to succeed in school and life as happy and healthy individuals.
Curran ensures this future and raises community awareness through her personal commitment of running a marathon per month. To date, RunningBrooke has invested more than $1.5 million into the local community. These funds are raised through partnerships with businesses, donations from individuals and community events and have impacted the lives of tens of thousands of underserved kids.
"It's all about getting kids physically active," Curran said. "Kids who are more active are far more successful in school and in life."
Over the past 10 years, Curran has transformed her seedling idea into a major agent for positive change. RunningBrooke partners with Alexandria City Public Schools to create productive and healthy learning environments for underserved students.
In 2018 alone, RunningBrooke invested over $200,000 through its Move2Learn grants which have provided bikes at Ferdinand T. Day Elementary, outdoor play equipment at Matthew Maury Elementary, outdoor giant games at Minnie Howard and yoga and dance in various afterschool programs.
RunningBrooke also assists individual teachers in creating active classrooms through its Move2Learn mini grant program started in 2017. Additionally, RunningBrooke has awarded Move2Learn scholarships and grants to organizations and nonprofits such as the Alexandria Soccer Association, Girls on the Run of Northern Virginia, Local Motion Project and QuinTango so all kids have access and opportunity.
Thanks to RunningBrooke, local neighborhoods have been transformed into havens of activity and recreation through the organization's playground building initiatives. In 2015, RunningBrooke teams completely revitalized the Hume Springs Park playground in Arlandria and in 2016 renovated the Taney Avenue playground in the West End with new equipment, landscaping benches and paths and water fountains. Most recently, RunningBrooke transformed a deserted tennis court into a multi-use basketball and soccer space in Arlandria and collaborated with the Department of Parks, Recreation and Cultural Activities to plant beds of native flowers and trees. An adjacent playground will be built in the summer of 2019.
Curran's dedication is clear in the outcomes that RunningBrooke has yielded: 90 percent of kids participating in programs that RunningBrooke support say that being active help them do better in school; 86 percent say they are now more active in school and at home. Kurt Huffman, ACPS Director of School, Business and Community Partnerships, calls RunningBrooke "a vital ACPS partner that has enriched the educational experience for students and provided meaningful professional development for ACPS staff."
Curran has transformed a personal, solitary hobby like running into a community serving nonprofit.
"Brooke built a nonprofit from the ground up motivated by nothing but a sense of duty toward improving the lives of others in her community," said former ACT for Alexandria CEO John Porter. "She asks for nothing in return — she earns no salary and asks for nothing but the support of her fellow Alexandrians to help build a better community."
Curran personally funds her own marathon and travel expenses and overhead in RunningBrooke is low, with 90 cents of every dollar heading out the door to support at-risk area children.
In addition to her leadership of RunningBrooke, Curran is a member of the Alexandria Rotary Club and the Alexandria Chamber of Commerce, a board member for ACT for Alexandria, the School Health Advisory Board and has previously served on the Allergy and Asthma Network and Marathon Charity Cooperative boards.
Curran was recognized with the Joan White Grassroots Volunteer Award in 2011 from Volunteer Alexandria, the Rising Star Award from the Alexandria Commission for Women in 2013, the Alexandria Parks and Recreation Commission Civic Award in March of 2017, and a proclamation of achievement by former Alexandria Mayor William Euille. She was named a Geico Hometown Hero in 2015.
Seemingly unstoppable at every turn, Curran's resilience was tested when in March of 2018, just a month shy of her 50th birthday, she suffered a sudden and severe brain aneurysm. She was rushed to the hospital and spent nearly a month undergoing multiple brain surgeries.
Her muscles from years of running atrophied. Her brain, sharp from years of working to help others, held an uncertain future.
"Three months of my life were just erased," said Curran, who still has memory gaps from about a month before the incident through her time in the hospital.
She went to physical therapy and built up her strength and gradually returned to her life's work of helping others. Seven months later, Curran completed the Marine Corps Marathon, her 117th marathon and another series of steps toward a better Alexandria.
"Curran's legacy exists in the lives of the many children who are impacted through RunningBrooke and the Alexandrians whom she inspires with her altruism," Porter added.
Curran and her husband Chris live in the Rosemont section of Alexandria and are proud parents of three adult children: Clare, Kate and Caroline.
"My family is not surprised that I would go right back at it," said Curran of running competitively so soon after her life was nearly ended by the aneurysm. "They are proud and supportive and though it sounds trite, I truly have a new appreciation for life. The bonds with people and organizations that I have formed are so much more precious to me. I don't take a single breath for granted."
Curran is back into her routine of running a marathon a month and raising funds to support the underserved in Alexandria. "I want to be sure kids can afford to participate in programs that keep them active," Curran said. "I want RunningBrooke to continue to grow and make more of a difference in the community."
Credit: Jeanne Theismann