City Hall Portrait Unveiling – April 23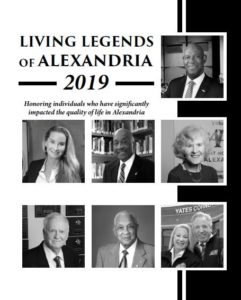 On April 23rd beginning at 5:30 pm, the official 2019 Living Legends portraits will be presented officially at the Market Square Lobby of Alexandria City Hall, made possible by sponsor Dominion Energy. All Living Legends and Living Legends of Alexandria supporters are invited to this (free) event, but we are looking forward to especially seeing all 2019 Legends there.
Living Legends President, Jenn Ayers, will deliver opening remarks that describe why these portraits serve as important chronicles of improvements made to the City. Mayor Justin Wilson will offer comments and most of the City Council is expected to be there.
Following this brief ceremony, the video that debuted at the March 14th Meet the Legends Reception will be shown, where refreshments will be served by Pure Perfection Catering. No need to RSVP, but we certainly hope to see everyone there.
---