Induction Year: 2023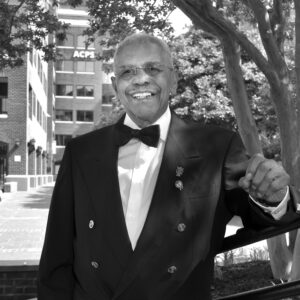 Charles Wilson, a retired U.S. Air Force officer, is a dedicated advocate for the youth of Alexandria. He has served in numerous advocacy positions and made a difference in countless situations, including through his service as vice chairman of the school board for Alexandria City Public Schools.
"I was influenced by mentors like Ferdinand Day and Lynnwood Campbell," said Wilson. "They said I was blessed and that I needed to give back to the community. So I jumped in where I thought I could make a difference."
Wilson grew up in Chicago and credits his early education for setting him on a path to success.
"I was one of two minorities selected to attend an elite Jewish high school," Wilson said. "Being accepted to that school was a turning point in my life. It helped me see what I might be capable of achieving."
Wilson went on to study at Southern Illinois University, where he was part of the ROTC program. Upon graduation in 1964, he was commissioned as a 2nd Lieutenant in the Air Force. He was deployed to Vietnam, where he served with the 82nd Fighter Squadron and the 315 Air Commando Wing.
For nearly a quarter century, Wilson served his country, including as executive director of the U.S. Department of Defense executive leadership program at the Pentagon. He was also a military liaison to the Republic of China, advancing through the ranks and retiring as a lieutenant colonel in the Air Force in 1988.
Upon his retirement from the military, Wilson began a career in financial planning and human resources development. He ran for and won election to the School Board in 2003, serving nearly 10 years including as vice chair.
During this time, he was encouraged by fellow School board member Sheryl Gorsuch to get involved with the newly formed Parent Leadership Training Institute, a nonprofit that seeks to enable parents to be better advocates for their children. Wilson committed to the program and serves on the Alexandria chapter of the PLTI advisory board.
In 2009, one of Wilson's Omega Psi Phi fraternity brothers, Jim Paige, was in the process of establishing the Concerned Citizen's Network of Alexandria. Paige asked Wilson to join the organization, where he serves today as the CCNA treasurer.
"I know the importance of education and see firsthand the difference CCNA has made in the lives of young people and their families," Wilson said.
Like Paige, Wilson touts the successes of his fraternity, which was founded at Howard University in 1911, a first for a historically black college.
"We are committed to community service," Wilson said of the African American collegiate fraternity. The Alexandria chapter of the organization is heavily involved in service to the community through events like coat drives and with members volunteering with special needs children and adults at the Miracle League baseball games.
Wilson has served as a municipal consultant to the City of Dayton, Ohio, and an adjunct professor at Park University. He was PTA president and also served as vice chair of the Northern Virginia Hotline.
In addition to his professional roles, Wilson earned a Bachelor of Arts from the University of Maryland in 1976 and an MBA from Webster University in 1979.
Wilson utilized his knowledge and experience to establish a vending machine business in San Antonio, Texas. And when you use a microwave, you can thank Wilson, who is also credited with the invention of the microwave oven carousel.
Since his retirement from the military, Wilson has remained active with various endeavors. In addition to serving as vice chair of the Alexandria School Board, he is a past chairman of the Washington D.C. Area School Boards.
A fellow of the D.C. Life Underwriters Council, Wilson is also involved with the American Society for Training and Development, the human rights commission of the International Personnel Management Association, and Toastmasters International, among other originations.
Wilson has been honored by Marquis Who's Who for Excellence in Community Service for his many achievements. Additionally, he was chosen to be featured in the Who's Who in Finance and Business, and the Who's Who in the South and Southwest. He has also appeared in multiple editions of Who's Who in America and Who's Who in the World.
Wilson has four children: Audrey, Angela, Andrew and Aaron. His first wife, Shirley, was a fellow Air Force officer who died of cancer at a young age. He has been married to his current wife, Mona, for 35 years.
"I go back to that turning point in my life – being accepted into that Jewish school," Wilson said. "I am thankful to all those who encouraged me along the way. I truly have been blessed."
By Jeanne Theismann
Photo Credit: Steven Halperson/Tisara Studios