Induction Year: 2009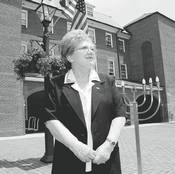 By any measure, Charlene Schiff has lived a much quieter life in Alexandria than at any time since she was a small child. She has devoted most of the last thirty years to telling the stories of earlier days. As a witness to history and an observer of humanity from a unique perspective, she has kept alive the memories of her lost loved ones and the world that perished with them.
Charlene grew up in the town of Horochow, Poland in the region that included the major city of Lvov. The thriving Jewish community always considered itself Polish, even after the Soviet invasion of 1939 annexed the region to the Ukraine (where it remains today). Horochow boasted an impressive wooden synagogue that stood at the center of a bustling Jewish quarter.
Charlene (whose original name is Shulamit) was born into the respected household of Prof. Simcha Perlmutter, who taught philosophy at the University of Lvov. Her mother, Fruma, was also trained as a teacher, but gave up her work to care for her two daughters. The Perlmutter home was a gathering place for learning and conversation, and Charlene's father was generous in lending from his extensive personal library.
When the Germans invaded Poland in 1941, in violation of treaties with the USSR, life took a disastrous turn for the Jews. The increasingly hostile occupation turned deadly. The synagogue was burned. Charlene's father was taken away, and one night mother and daughters attempted to escape along the banks of the river that ran through town. Charlene never saw her mother or her sister T'chiya again. She was an orphaned child of a privileged home. At an age when most little girls are beginning to discover fashion and boys and movie stars, Charlene was a refugee in a forest, subsisting on a diet of rainwater and dew, wild fruits and even insects.
When the war ended, Charlene spent three years in displaced persons camps. Her father's mother and five sisters had escaped to the United States, thanks to his foresight. Charlene had committed her grandmother's address to memory – she can still recite it today – and wrote to her asking to be reunited. Unfortunately, her grandmother had died, and the only one of the five aunts who could afford to take her in lived in Columbus, Ohio. It took three years for the bureaucratic wheels to turn, and Charlene arrived in Ohio a bitter and angry teenager. Still, her aunt pushed her through high school and persuaded Ohio State University to accept her as a student. There she met a young man named Erwin Schiff, whom everyone called Ed. He saw the potential in Charlene and "chased her until she caught him."
Ed spent his career in the army and Charlene became an army wife. With their son Stephen, they lived in Europe and Asia. Ed was among the American military advisors in Vietnam and held commands in that war. Charlene spent long months – sometimes years – isolated from everything familiar and separated from her beloved husband. Twice she received news that Ed had been killed. Twice the reports were wrong.
In 1985, after twenty-nine years in the military, Ed retired and turned his focus to Charlene. Stephen had become a doctor and married, and Charlene had time on her hands. She had never slept well – the past came to visit after dark. She would climb out of bed early in the morning to record them. Rabbi Sheldon Elster of Agudas Achim in Alexandria invited her to share her stories with teenagers in the synagogue's Confirmation program. At first she refused. But Ed insisted that it was time for her to come into her own and tell her stories. He told her, "You have a mandate and an obligation to six million martyrs" of the Holocaust.
Reluctantly, and after a lot of coaching from Ed, Charlene shared the story of how her world collapsed around her. The response from the students and Rabbi Elster was electrifying, and the hesitant speaker began to accept a few more invitations to share more of the stories of her life in Europe. She wrote poems expressing the lost world and the lost innocence of little Shulamit to preserve in her life the family and friends whose lives had been forfeit.
In the late 1980s, two events elevated Charlene's profile and broadened her circle of influence. On the national scene, the United States Holocaust Memorial Museum opened and became the locus of deep devotion by Charlene and Ed. They volunteered their time, and Charlene became a much-sought speaker, both at the museum and in venues around the world. On the local scene, Charlene inspired then-Mayor Jim Moran to institute the country's first civic commemoration of the Days of Remembrance of the Sho'ah (Holocaust). The Alexandria tradition has continued uninterrupted for twenty years. Charlene participates annually. The Schiffs donated a custom-made candelabrum with six lamps to be used at the ceremony.
There is no way to convey in print the power Charlene Schiff holds over an audience. She is especially effective with children and teenagers. For many years she has spoken to a diverse crowd at TC Williams High School, inspiring in them awed silence and heartbreaking questions. Charlene handles the questions with love and tenderness, even when they take her into unfamiliar terrain. (One gay student asked her about the oppression of homosexuals in Nazi Germany, and if that would lead her to advocate for gay rights. She offered to think through an answer and corresponded with the student afterward.)
Charlene Schiff is the eloquent and soft-spoken voice of memory, vigilance and compassion in Alexandria. Her powerful words rest gently on the hearts of public figures and private citizens, young and old alike. With a little luck, her story will be even better known within a couple of years; a film producer is developing a movie based on her extraordinary life story.
Last summer, her beloved husband succumbed to a combination of long-time illnesses and was laid to rest with the heroes of our country at Arlington National Cemetery. Though frightfully lonely for him, Charlene continues to travel so that she can tell her story to eager listeners. It is a story she wishes was no one's to tell. But her generosity of spirit and her willingness to open her life to others has given her legendary status in Alexandria and beyond.
Credit: Rabbi Jack Moline