Induction Year: 2017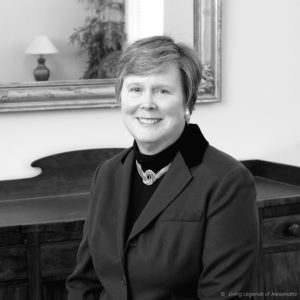 If, as the quote goes, "Service to others is the rent you pay for your room here on earth" then Carter Dudley Flemming has earned a castle. Few have affected the lives of countless in so many ways.
Carter reflects that her philosophy of giving back and paying it forward is just a part of who she is. She remembers fondly how her parents were instrumental in embedding the sense of belonging that comes from reaching out to others. She has taken that to heart over a lifetime of volunteering in Alexandria without compensation except the reward of personal satisfaction. She is equally proud of her family's involvement as she watches her sons as they continue the legacy.
This hometown woman has found her way into the hearts and homes of a myriad of Alexandria residents through her unusual approaches to helping. Her lifelong commitment as a community organizer continues to create a stronger sense of community for all its residents. The impact she has made as she literally and figuratively walks the walk ranges from the simplest act of delivering Meals on Wheels to board leadership.
Elizabeth Ann Campagna, founder of Campagna Center, was her earliest mentor and Flemming remembers her fondly and credits her with providing the self confidence that continues to propel her to volunteer in innumerable capacities. She shares that Elizabeth brought her to the forefront from starting with asking her to do small tasks and then moving her into positions of leadership that began as the young mother took on the monumental task of the Christmas Walk, the Campagna Center's annual holiday celebration the first weekend In December. For Flemming It is not enough to volunteer in just a single role, but to branch out and embrace what needs doing at all points. The leadership she provides to all the organizations she has impacted is mirrored at every level. Starting a friendly visitor program while steering the Alexandria American Red Cross provided many years of one on one unsung personal involvement to brighten the lives of seniors and isolated residents. The exuberance of her caring and sharing is amplified stirringly in the abundance of supporting letters exhorting her commitment to make a difference for any individual who crosses her path. Among the most moving is one from a successful TC Williams and Georgetown University graduate, Daymond Jackson, who credits the transformation of his life to Flemming and her family providing him with a home and the guidance and support that made it possible.
Working at the grassroots level of so many non profits has "helped her get to know people she might never have met…and provided her with sympathetic and empathetic understanding of what it means to be a full member of your community." Paradoxically, she has served at the organizational level of many of the key Alexandria organizations that serve her hometown. It is not unusual to find her crafting mission statements and goals one day and then the next making concrete personal steps to implement them. In actual practice her volunteer commitments at any given time over the years, and today, require the creative juggling and scheduling of the busiest executive. So many of the ways she has influenced the life of the city and its residents have overlapped for many years. She has held positions with the Campagna Center (31 years), Alexandria American Red Cross (18), Alexandria United Way (16) Alexandria Redevelopment Housing Authority (ARHA) (24). Then there are the other 13 Alexandria non profits (143 years). This astounding number does not even include PTAs, school programs, and her local civic associations and garden club.
She doesn't differentiate between what she finds most joy in doing. She recognizes that her role in hands on and board work can be equally rewarding and stimulating at many points. One of her long range goals for the city is to inspire a new generation of volunteers who will seek out opportunities to give back to Alexandria. Fund raising with many organizations taps her creativity and positive attitude to always find a way to make things happen. She believes in leading by example and finding the right people to make things happen. Neighborhood Health, for example, credits her with training volunteers to help meet primary health care needs. Her dedicated work provided a raising awareness of the organization in the community and positively increased funding opportunities.
Her individual hand has reached out to children in need as a Court Appointed Special Advocate (CASA) providing a voice for the neglected and abused children facing family court issues. As the longest serving Alexandrian CASA volunteer she also interviews potential volunteers and shares with them the importance of this often difficult and emotional work.
She is a familiar sight and strong voice for Alexandria's senior housing residents. Her individual availability by personal phone and email is the backbone of her support to the residents of Ladrey senior housing. She attends all the resident meetings and brings their concerns to ARHA management according to Maudie Hines, president of the Ladrey Advisory Board. Her advocacy and support of the citizens enriches their lives as she helps to problem solve and improve the quality of life for seniors and her untiring dedication to the daily needs of seniors was noted by Legend Lynnwood Campbell, chair of Senior Services of Alexandria.
There is hardly an organization or cause that Flemming hasn't left a fingerprint on. Showing no signs of slowing down she continues to hear the hushed whispers of necessity. Smilingly she admits she can't seem to say no. She continues, "I always seem to be at the right time and place when asked, can you do this?" She stands out because she does not seek to stand out. As her nominator Lindalyn Hutter wrote, "Many of us are drawn to do more because we see Carter's approach to service and her impact, and we are inspired." This Living Legend reflects the cornerstones that makes Alexandria a vital, caring, community.
Credit Trudi C. Van Dyke