Induction Year: 2023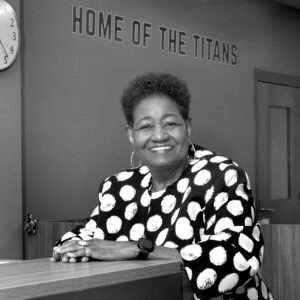 Since her early days in Alexandria, Carolyn B. Lewis put her energy into improving the lives of young people and helping them move forward with a promising future. Although she has been involved with a number of programs, Project Discovery Alexandria was her baby and she's seen it grow to an organization with 20 chapters in seven states providing guidance to students pursuing higher education.
Project Discovery Alexandria (PDA) prepares and motivates low income and first-generation college-eligible students to access opportunities in higher education. Through workshops and trips to college campuses, PDA provides vital information about how to set and achieve educational goals. This program is supported by the Project Discovery Advisory Board whose mission is to raise funds, promote community involvement and foster positive public relations.
"A former superintendent of schools was one of our Project Discovery kids," Lewis said, looking back on her many accomplishments.
Iburia Hall-Haynes has known Lewis for more than 30 years and saw the result of her efforts including Project Discovery. "Through her leadership as co-founder of Project Discovery of Alexandria as a teacher, mentor, principal, church member, family member and friend, she has made a substantial difference," said Haynes in a summary of her experiences with Lewis.
Project Discovery wasn't the only thing on Lewis's plate in Alexandria. She was involved with Brother's Keepers, a community organization, Feed the Five Thousands, and Tree of Lights, while she volunteered at the polls, AARP and those attending adult high school. Along the way she's seen generations of families grow through the city programs.
One Alexandria resident who is now a grandmother went on to explain her impact. "Ms. Lewis is the person who contributed to my success and is the one responsible for my graduation from high school," the woman told Haynes. She stated that Lewis would come to her home and make sure that she came to school and encouraged her every step of the way.
Brother's Keepers is a community initiative, run by the historic Alfred Street Baptist Church that Lewis has been involved with since 1969. In July, Lewis was involved in a church initiative giving out school supplies to families in the D.C. area. It's the initiative's 22nd year helping families in underserved communities. The church choir is one of her passions. "I love singing, only in the choir though, no solos," she said.
In 2002, Lewis was recognized by Alexandria's Commission for Women in the Annual Salute to Women Awards in the Education/Training category.
Lewis was born and raised in Whitakers, N.C. She was one of 12 children – eight girls and four boys. "It was wonderful growing up with so many siblings," said Lewis, who was the youngest girl and third youngest in her family. After graduating from Swift Creek High School, she attended North Carolina Central University majoring in physical education with a minor in education and biology.
"I didn't want to have a career that kept me inside," Lewis said. "I wanted to be able to go outside. I didn't really want to teach but back when I was coming along they really only told you that you could be a teacher or a nurse."
Following her college graduation, Lewis learned that the Alexandria school district was looking for a PE teacher at what was then T.C. Williams High school. She applied but was instead sent to Parker-Gray, where she began her career in 1969. When that school closed its doors she ended up at T.C. She met her husband at T.C., where he was a music teacher. Now divorced, they had one son, Elwood "Woody" T. Lewis Jr. and she has one granddaughter, Sophia.
"But you can't tell kids in Alexandria that I only have one son," she laughed, "because according to them I have hundreds of kids."
One of those hundreds, Joseph Williams, is especially close to Lewis.
"Joe really considers himself my son and he is really close to me," said Lewis, who is also close to Williams' wife Meryl, daughter Lillian and son Warren.
It's her family along with the network of friends that she has cultivated over more than 50 years in Alexandria that keeps her optimistic as she is being treated for Stage IV breast cancer.
"No matter what I am going through now I know I have had a good life," Lewis said. "I am truly blessed."
By Mike Salmon
Photo Credit: Steven Halperson/Tisara Studios