Induction Year: 2019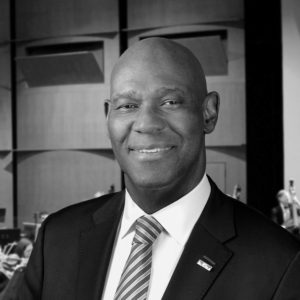 Growing up in the musical realms of Motown, known as the city of Detroit, Ronal E. Butler was destined to enrich the lives of his community by incorporating the arts and education. He received his education through the Detroit Public School system. At 7 years old his mother, Allie Butler, purchased a used upright piano and Underwood typewriter. It was his early introduction to music and typing, which turned out to be critical when he took computer programming classes in college. He learned to play the trombone, along with several other brass instruments, while in middle school.
Butler graduated from high school with a keen focus on mathematics. He gravitated towards an educational path that involved mathematics, placing his love for music on hold when he entered college. He chose to major in engineering, although he was unclear of the career path an engineer entailed. His first introduction to engineers were the professors at the university. He earned his bachelor's degree in mechanical engineering, with a minor in electrical engineering, from General Motors Institute of Technology (now Kettering University) located in Flint, Michigan.
In the 1980s, Butler relocated to Burke, Virginia, to pursue a career in technology. He enrolled in Catholic University of America in Washington, DC, and earned a master's degree in engineering management. Ten years later, he relocated to an up-and-coming area in the Fairfax County area of Alexandria known as Kingstowne. He became acclimated within business entities and political campaigns (mayoral race of William Euille) of the city. In 1995, he established Networking and Engineering Technologies, Incorporated (N.E.T.) in the basement of his townhome. He envisioned an information technology and cyber security company providing excellent customer service and valuing its employees. His companyis located in Woodbridge, with employees in six states. In 2006, Butler met and married his wife, Martha Lloyd, a DMV native and business development professional.
As Butler developed as an entrepreneur, he joined Rotary International to engage and network in his new city. Bill Jarrett, a former board member of the Alexandria Symphony Orchestra, extended an invitation to attend a performance of the orchestra and asked if he would be interested in joining the board. No stranger to the arts, he believed it would reignite his passion for the arts and introduce a new audience to the orchestra. In 2002, he joined the ASO board and served in leadership roles of: secretary, vice president and president, a position he held for six years.
The ASO curated the ASO Sympatico, a music program sponsored by the Education Committee. Butler was a big supporter and donor of the program. ASO Sympatico rolled out at John Adams Elementary school. In his involvement of Sympatico, he recognized how children became more confident and parental involvement increased for school activities. He expressed his goal to continue expanding into the brass instrument family, as the trombone is his favorite brass instrument. Today, there are approximately 110 students who are currently participating in Sympatico.
Butler is genuinely committed to the education of the youth as well. He noticed a need to minimize financial burdens for underprivileged students in Alexandria Public Schools to prepare for college. The Scholastic Assessment Test (SAT) is an important factor in getting accepted into a college. He understood students would perform better with SAT prep training. He formed a partnership between the Ira Dorsey Scholarship Endowment Fund (IDSEF), a nonprofit foundation through the Xi Alpha Lambda chapter of Alpha Phi Alpha Fraternity, Incorporated and the Northern Virginia Urban League (NVUL) Guild to provide financial resources in SAT prep testing. In this partnership, IDSEF has provided $2,000 to the NVUL Guild each year to cover prep testing fees for students in financial hardship. In addition, IDSEF has awarded nearly $200,000 in scholarships to 135 students in the past 25 years since it was founded. The awarding of scholarships to students for college tuition and expenses has been one defining accomplishment. "Helping the students cross the finish and receive his or her bachelor's degree is a great feeling. They are at a point where they can move forward with beginning their careers, and I enjoy the feeling of knowing I had a hand in it."
Other leadership contributions to the city of Alexandria and surrounding areas includes: Campagna Center Development committee member (2004-2005); NVUL membership committee member (2004-2012); Alexandria Rotary Club vice president (2005-2008); ASCD vice president (2013-2016); IDSEF vice president (2011-2014); and Northern Virginia Sigma Pi Phi Fraternity president (2014-2015).
In 2017, Ronal and Martha started the Allie Butler Centennial scholarship at Kentucky State University (KSU) to commemorate his mother's 100th birthday. The $10,000 scholarship is awarded to a female senior majoring in STEM at KSU. The first recipient has graduated and actively working in the STEM field. In the fall of 2019, she plans to attend college to pursue her master's degree in business administration. Allie Butler was able to converse with the recipient before her passing in 2017 and shared how proud she was that her legacy would continue at her alma mater. Locally, Butler continues to commit to mentoring students who obtain their undergraduate degrees in STEM. The commitment would involve a financial scholarship and opportunity to shadow or attend a STEM related conferences. Butler continues to be a prominent figure in the community. He aspires to diversify the arts audiences with introducing new talents to draw in people from all ages and backgrounds and mentor students throughout his or her college career. He and his wife continue to reside in Kingstowne and are a valuable asset of evolution of the city and its growing community. "I never thought I would be a Living Legend. It is not something I have dreamed about but more than what I could have dreamed."
Credit: Dominique Clayton