Induction Year: 2010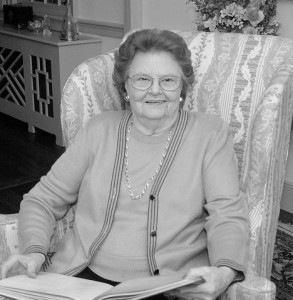 Don't let Betty Wright's Southern manners fool you. Underneath that polite reserve is a woman with a sly wit, often irreverent observations and an infectious laugh which sets her eyes sparkling with a girlish mischievousness."You see her head turn sideways a little bit," laughs former Alexandria Mayor Patsy Ticer, now a State Senator. "And she doesn't flaunt her accomplishments. You would never know that she's had such an illustrious history."
Smart, savvy and generous, Betty Wright has made an impact on everything she touches, from historic preservation to Old Town civic causes to funding a nationally recognized literacy advocacy program in Alexandria for underprivileged children "The Wright To Read." "This was her baby. And it's really thriving," adds Ticer, who has known Wright since the late 1950's.
Born in Asheville, N.C., Betty Dale Rhoads arrived in Washington in 1942. She married insurance broker Frank Lester Wright, Jr. in 1949 and settled in Arlington.
One evening, she and her husband attended a production of The Beggar's Opera at The Little Theatre of Alexandria and the Wrights began their lifelong love affair with Old Town. The actor who played Mr. Peachum later sold them their first house in Old Town, 316 South Lee Street, in July, 1953 and the Wrights were early and staunch supporters of the theatre.
In 1979, they purchased the historic property on South Fairfax Street known as "The Doctor Brown House", once owned by William Brown, Surgeon General of the American Revolution and author of the first American Pharmacopeia. The Wrights lovingly preserved many detail of the property, including the period woodwork, wide plank floors, hardware and even the original goat hair plaster.
The couple also joined the burgeoning effort to preserve and protect the historic properties in Old Town, many of which were in disrepair and threatened with destruction. Their love of architecture was only rivaled by their keen interest in food and fine wine.
That year, she and Frank began the Frank and Betty Wright Foundation and launched a unique mentoring and teaching program "The Wright to Read" giving the gift of literacy to underachieving children. The landmark program matches tutors with inner city students from kindergarten to the 5th grade and has helped thousands of children get a head start in life.
"She was really ahead of her time," says longtime Old Town resident Carolyn Abshire. "This city would not be the same without Frank and Betty Wright." Frank Wright died in 1993 after a battle with cancer. He was 73.
Betty Wright began her professional career at U.S. News & World Report as the Promotion Manager, and then joined the Historic Times Inc. in Harrisburg, Pennsylvania as a partner. The company eventually published seven magazines, including British Heritage, Civil War Times Illustrated, Historic Times Illustrated and Early American Life. She retired when the company was sold to Coles Media.
Wright has had a lifelong passion for antiques. As a member of The International Society of Antique Scale Collectors, she is known for having one of the finest collections in the United States and is often fiercely bidding against other collectors on eBay.
After retiring as president of the Landmark Society, which then owned the Stabler-Leadbetter Shop Museum, she learned of the availability and purchased a large group of original records, letters and orders from the earliest days of the shop and donated the items to the Stabler-Leadbetter Apothecary Museum."I found out how important the records are," she once said. "It's really a record of Alexandria history. George and Martha Washington and Robert E. Lee all got their medicines there." The collection includes an inventory of documents dating from the 1790's to the 1930's. One famous order from Martha Washington asked for a quart of his finest castor oil to be delivered to Mt. Vernon. She was even able to track down Edward Stabler's 1790 journal, which is currently one of the most fascinating items in the museum. (The museum is now owned and operated by the City of Alexandria.)Wright has been honored with many awards for her generosity, among them an award from The Alexandria Commission for Women in 2002, and a special award in 2004 from the Alexandria Historical Society.
During the 1980's, Wright became an integral part of refurbishing the State Department's official reception rooms. "For more than twenty years, Betty Wright has been a valued member of the Fine Arts Committee, U. S. Department of State," said Marcee Craighill, Curator of the Diplomatic Reception Rooms at the State Department. "Betty joined the committee because of her very persuasive friend and neighbor, Clement Conger. She remains a loyal, generous and engaged supporter of the Diplomatic Reception Rooms. Her contributions of objects, ideas and funds helped build a great national collection of Americana that provides a magnificent setting for American diplomacy. We truly congratulate Betty on becoming a Living Legend in Old Town."As a Smithsonian Associate, Wright also funded one of their new display cases to feature objects not related to a specific exhibit. But it is literacy and books which are closest to her heart. In recognition of her work, Betty Wright received a special Daily Points of Light Award at the 2005 convention of the Points of Light Foundation held in Washington, D.C.
When she learned in the late 1990's that there were no funds to build a "reading garden" for the newly constructed Charles E. Beatley, Jr. Central Library, she offered to construct the 4,500 brick garden featuring benches, shade trees and colorful annuals. The garden, which was dedicated in June 2000, is a tranquil respite for reading, and is the site of chamber concerts and other events. The garden is also a living tribute to Betty Wright's warm and generous heart and commitment to the future generations of Alexandrians.
Credit: Stephanie Mansfield
Photo Credit: Nina Tisara