Induction Year: 2009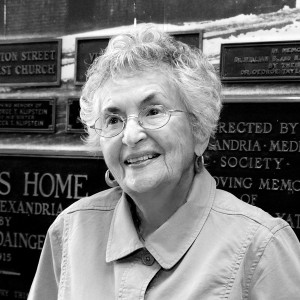 If you believe no one but you is concerned about your health, you are mistaken. Arlene Hewitt probably is a good deal more concerned about it than you are. And likely has been concerned about it for more years.
Since Hewitt moved to Alexandria from Boston more than 40 years ago and took a job with then Alexandria Hospital as its first social worker, she has rarely stopped thinking about the well-being of Alexandrians. Over the years, she has launched or helped lead more health initiatives for city residents than even she can recall at a single sitting. By all accounts, her work went well beyond her work at the hospital.
Giving up on keeping his nomination of Hewitt for an Alexandria Living Legends to 100 words, her husband wrote: "There is no way I can tell you about Arlene Hewitt in 100 words or less." He then went on for more than 500 words about just "the highlights" of her dedicated work for the city.
Even the 1,000-word limit for this article is inadequate to describe her qualifying work. So here follows, also by necessity, just the highlights, of four decades of Hewitt's passionate, devoted, volunteer work on behalf of the health of city residents.
She initiated then Alexandria Hospital's first — perhaps the country's first — patient discharge plan, which requires the hospital staff who worked with the patient to meet before the patient is discharged to create a plan for recovery at home. The procedure is now standard at hospitals across the country.
She set up counseling for hospital patients — something new at the time — and set up a treatment program for alcoholics who came to the hospital. She rounded up a student from Virginia Theological Seminary to counsel them.
She created a fitness program for the city's seniors and pushed a city regulation requiring children under age 14 to wear helmets while bicycling, including rounding up a supply of the helmets for police to hand out from their squad cars. She wrote booklets for seniors, new moms, and the indigent on city resources available to them; chaired the task force that built the Flora Krause Casey Clinic; worked on various city programs to reduce teen pregnancy; initiated a stroke symptoms awareness program; pushed an effort combining police, fire and other safety personnel to prevent life-altering accidents in children, and headed up the city's infant and adult inoculation programs.
That's not all, just all there's room for.
"While at the hospital, Arlene assisted in nearly every way imaginable to make the hospital a cornerstone of the community," said Patrick Walters, executive vice president, Inova Health System, former CEO of then Alexandria Hospital. "Her long-time commitment went above and beyond the call of duty and continues to be evident even today."
At age 77 and long-retired, Hewitt is still at it. Four years ago, she was appointed by the City Council to serve on the Alexandria Public Health Advisory Commission. She works on "Operation Preemie," an Inova Fair Oaks Hospital program that she hopes to bring to Alexandria.
"They call me 'Queen of the Preemies' " she said. "It makes me feel good that I'm not considered over the hill."
How has Hewitt gotten so much done over the years?
As one might expect, she is different from most of people. She wastes not one minute. Make that a millisecond. Her condo on Howard Street is located directly across from Inova Alexandria Hospital, so as not to waste time on transportation. She makes clear, but not offensively, that she expects a visitor to be on time. She explains where to park — close to the correct door but not illegally — exactly which elevator to take, and which way to turn in the hallway. She answers the door before the visitor knocks. Her condo, homey and tasteful, is nonetheless clearly set up for work: phone, computer, fax, copier — all at the ready.
"I love for people to say to me, 'It can't be done,' " she said. "That really gets me going."
Credit: Pat Durkin
Photo Credit: Nina Tisara