Induction Year: 2010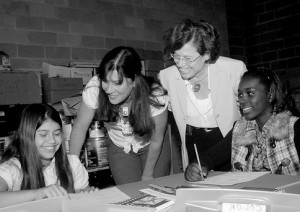 Seven years ago, Alice Merrill and Linda Odell began "SOHO: A Space of Her Own", a partnership between The Art League and the City of Alexandria's Court Services Unit. Their vision, commitment and collaborative fundraising efforts created an alternative arts program that touches the lives of at-risk young girls.
Linda Odell is the Director of Alternative Programs for Alexandria's Court Services Unit and cofounded the program with Alice Merrill, former Director of Development at The Art League. The pair are the recipients of many awards, including the 2005 Leadership Fairfax Community Partnership Award, the 2004 United Way Eureka Award and the 2009 "Making a Difference Award" from the Commission on Women."We started SOHO in an effort to reduce juvenile crimes committed by females," said Odell, "Which appears to have worked because 96% of the 108 girls we have served have remained free from court involvement. Mentoring works!"
The art-based program serves pre-teen girls by providing yearlong mentoring through engagement in creative art activities and meaningful community service projects. Each volunteer mentor makes a one-year commitment to the program, which fosters long-term relationships and culminates in the renovation of each girl's bedroom, HGTV-style. SOHO utilizes evidence-based life skills curricula and the National Mentoring Partnership's model program guidelines. This year SOHO expanded from its original Old Town Alexandria location to Hammond Middle School. The Visual Arts Center of Richmond has also replicated SOHO.
"SOHO helped me a lot, to get back on track with school, and at home," said a participant. "Now I go to school every day. I can honestly say that I am saying this from the bottom of my heart. Alexandria may be small, but does a lot of big things to help ordinary young girls improve their lives."
According to a mentor, "It didn't matter if they were great at what they did, but it did matter that they tried their best. Developing positive traits to turn out positive young women is part of what the program is all about."
A citywide survey of Alexandria teens, parents and community focus groups concluded that at-risk girls would be most successful in avoiding juvenile criminal activity and improving social skills and self-esteem, through engagement in long-term mentoring involving art activities. Consequently, a partnership between the local Court Service Unit and the non-profit Art League was developed and a "Space Of Her Own" was conceived.
Girls are matched with adult, volunteer female mentors, who work with them in weekly art classes as part of the yearlong program. Homework support, life skills, communication and anger-management classes are infused into every program day. The mentors are not professional artists. They and the girls learn artistic concepts and techniques throughout the course. Mentor and youth work together to create expressive and attractive artwork for the girl's bedroom, which may include a "dream" chest, mirror, personalized chairs, lamps and wall hangings.SOHO is loosely based on popular HGTV programming because upon completion of the program, girls and mentors work in teams to remodel other girls' bedrooms, being sure to include ample lighting and study space. Each girl is then required to "pay it forward" by completing community service projects with her mentor. Artwork and a before-and-after renovation videos are exhibited at a community reception at the end of the year. The promise of gorgeous new bedrooms is the program's hook, resulting in near-perfect attendance. Because of the program's non-threatening approach, mentors, administrators and seasonal volunteers are welcomed into the girls' homes during renovations. This often results in connecting families to appropriate city services. The success of this program is not only the one-year commitment by mentor and youth, but also the three-year follow-up of activities and supportive services through the SOHO Sisterhood Club, which is available to graduates throughout their middle school years.
Credit: AlexandriaNews.org staff
Photo Credit: Nina Tisara